High-end business servers: Designed to impress. Built to last.
Does your business need a high quality custom server?  We offer servers for a variety of tasks for businesses of all sizes.  Our systems are built on FreeBSD, Ubuntu, Debian, CentOS, RedHat or another major open source operating system?
Stable and secure servers are the core of your small business.
From simple file servers all the way to database and web servers (and everything inbetween) we are at your service, available to build the best open source powered server systems available using high quality parts and an optimized burn-in process. We can help your business design and build a customized solution that meets your current needs and can expand to meet future needs as well.
Our high quality servers can provide years of dependable service with minimal interruption.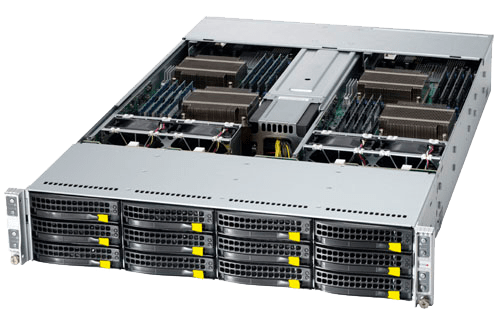 Our open source servers lower costs and improve stability.
All of our open source custom servers leverage open source free software to reduce costs and improve responsiveness.  Small businesses that use open source software can improve the effectiveness of their IT budget by reducing unnecessary licensing expenses and focusing on implementing high quality solutions that are community created and supported with professional guidance.
Our systems come with a one year warranty plus the parts come with their manufacturer warranty intact.  We also offer service contracts to customers in the Arlington, Virginia area and beyond.
Compelling reasons to have a custom server built by Envescent:
More rapid, local support from a vendor that is familiar with the server, its components and how to repair it.
Supporting a family-operated local business that performs its builds down the street from where the server will be installed at your location.
Fair pricing and hands-on sales ensure that customers get the exact server they need.
More options for what you want pre-loaded. We can install and configure other software like FreeNAS for networked storage as an example.
Customized backup options that we can build out and setup for your server as a part of the build and setup process.
Contact us today.  We'll be delighted to guide your decision in buying a high quality open source server for your business.