Affordable data recovery in Arlington, VA near Washington, DC and MD.
Our data recovery experts in Arlington, Virginia can recover all forms of data from even the most troublesome devices. Envescent offers hard disk drive, SSD, RAID, NAS and USB flash media data recovery locally. Our company has helped tens of thousands of clients in Maryland, Virginia and Washington, DC. Our company also helps clients outside of the Washington, DC area with convenient mail-in services that offer secure download options for recovered data. We work with our clients every step of the process to ensure the best results possible.
Envescent's primary data recovery lab is located in Arlington, Virginia. Our company offers an impressive 90% success rate*, rapid turn around times and competitive prices. We offer clients around the area in Alexandria, Virginia; Arlington, Virginia; Bethesda, Maryland; McLean, Virginia; Reston, Virginia and Washington, DC the best possible service at a fair price.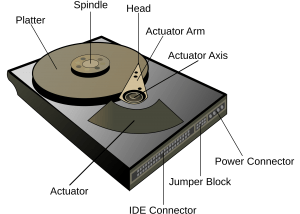 Our mission at Envescent is to offer competitively priced data recovery with the best success rate possible. We use a combination of proprietary in-house technology with advanced industry leading equipment and techniques. Envescent is a family-owned business that has been serving the Washington, DC metropolitan area's data recovery needs since 1999.
Use the link above to get your data recovery case started right away. Opening a ticket is the fastest way to get started. We can answer your questions or get your case started from there. Our experts are standing by, ready to help you salvage your information.
Skilled data recovery professionals dedicated to providing expert help.
A lot of companies claim to offer data recovery services.  It is absolutely critical for clients to choose a company that is qualified to handle their problem. Improper data recovery attempts can and will damage your prospects of a successful extraction. We are often able to recover data from hard drives or other storage media where competitors did not achieve success.
Your lost photographs (RAW and JPG), Word documents, Excel spreadsheets, Adobe PDFs and other office document file formats; CAD files, music, Quicken and Quickbooks data, Outlook PST and other file formats can be restored. Envescent has a unique set of capabilities that give us the cutting edge in getting your lost information back. Our engineers often recover data that other companies cannot.
We frequently encounter hard drives and other equipment that have been mishandled or destroyed through improper measures. Our process is the most comprehensive possible and no cost or effort is spared to reunite you with your valuable information.
 No two cases are the same. We will ensure your data recovery is handled diligently.
We have three phases of service. Prices and turn around times vary depending on the condition of your hard drive and its file system. Encrypted drives, SSDs,  RAIDs, multiple drives and other non-standard configurations will incur extra data recovery fees depending on the amount of extra effort required.
Your drive will be diagnosed to determine which phase it falls in to and you will be provided with an exact price quote for the data recovery, as well as an estimated turn around time and information about recoverable data (if we are able to determine that post diagnostic). Data recoveries only fall in to one of the following phases (rather than one after the other).
The prices below reflect regular level service. We also have faster expedited service for at a higher cost for emergencies.
PHASE 1: If your drive and file system are in relatively good condition and you require a simple extraction. We can extract and copy data to an external hard drive or another computer the estimate cost is usually about $220.00 to $275.00. This covers removal of malware, minor file system repairs, file permission repairs, etc.The PHASE 1 data recovery process usually takes about 2-3 business days (after diagnostics). Please note that PHASE 1 data recovery does not include the removal of encryption from ransomware infected drives or files.
PHASE 2: If instead your drive has been damaged and it needs advanced data recovery the estimate ranges between $330.00 to $660.00 depending on the amount of damage and how that complicates the process for us. The average cost of a PHASE 2 data recovery is between $330.00 and $440.00. Most of the cases we see fall within this range.The PHASE 2 data recovery process usually takes about 1-2 business weeks (after diagnostics) depending on the transfer speeds the damaged drive can achieve and any damage that we need to clean up to gain access to your data.
PHASE 3: Some drives may be extremely damaged and require mechanical data recovery services. Our clean room invasive data recovery process involves performing microsurgery on the hard drive. This process involves removal of the exterior cover, replacement of the headstack or other components such as the spindle in a clean room environment. This level of severity is only seen in about 10% of our data recovery cases.The PHASE 3 data recovery process costs a flat fee of $990.00. This process usually takes about 3 business weeks (after diagnostics). Turn around times may vary if your drive is extremely damaged.
Envescent has been serving the Arlington, Virginia area and beyond since 1999. Our team gives your data recovery the attention it deserves to give you the best results possible. We have an impressive 90% success rate on data recovery cases. Every case matters to us because we understand your data is made up of hard (if not impossible) to replace files or time.
You deserve the best data recovery service experience possible.
We keep our prices competitive and our services streamlined as a part of our larger commitment to your satisfaction. Our advanced technology also allows customers to securely download their data recoveries at high speeds directly from our encrypted private servers.
The outcome of your case depends on the amount of damage to the drive and file system as well as the amount and complexity of the data to recover. Sometimes drives may not be recoverable if they are severely damaged. If we can not recover any of your data there will be no charge beyond the diagnostic fee.
You may also use the link above if you have questions about our data recovery services. Opening a ticket is the fastest way to get a response or get your data recovery started. Our goal is to re-unite you with your valuable information cost effectively and quickly. Once we check your items in we will route them to our local lab in Arlington, Virginia for diagnostics and data recovery. From there we will keep you updated throughout the process.
* Success rate based on the total average number of successful data recoveries we have had since 1999.
Learn more about our data recovery services for your device: