King Street – Alexandria, Virginia
Envescent IT & Cybersecurity offers cybersecurity, data recovery, IT consulting, training and web development. Our Alexandria, Virginia office is located on King Street in the heart of Alexandria. We're local, family-owned and customer focused. Our goal is to provide the best customer experience possible.
Contact us before visiting our location to make arrangements for service. We need to ensure that we are available and able to provide the service you are requesting.
If you are interested in data recovery, please start by opening a ticket.  We will coordinate with you to bring your equipment to our office. This will help to speed up the process.
Office address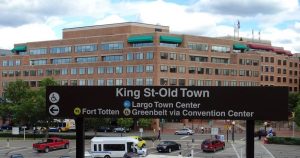 1800 Diagonal Road
Suite 600
Alexandria, VA 22314
Open on weekdays from 8:30 am until 5:00 pm. Closed on holidays and weekends.
This is a satellite location for equipment drop-offs, pickups, scheduled meetings and training sessions.
Our Alexandria, Virginia office is conveniently located adjacent to the King Street Metro. Beyond it's proximity to the King Street Metro station this location is easy to access from 495 or 395 via the George Washington Parkway.
Parking
Metered street parking is available nearby our office building. Finding a space may take a few laps.
For expedient parking enter the Colonial Parking entrance underneath the Embassy Suites on Diagonal Road.
If you turn left off of Duke Street, it is the second entrance on your right side.
Once you get to the bottom of the hill, you will see the complimentary valet station.
The valet station is right near our building elevator entrance and will be the easiest place to find parking.
You can either use the valet or park your vehicle in any non-reserved parking space.
Parking is $9 for an hour (the minimum) or $19 for the entire day.
Map